Typing passwords is a tedious task. Having to type PIN + OTP might be even more tedious.
To mitigate this problem, SystoLOCK offers a way to assist you in typing you credentials into the prompts.
All Assisted Logins require you to use SystoLOCK Companion to login and to have SystoLOCK Accounts configured in it. Other OTP-generating apps cannot perform an assisted Login.
While prompting for credentials, SystoLOCK client displays a QR code next to login input fields. You can scan that QR code with a pre-configured SystoLOCK Companion and make it enter your credentials automatically for you - you will only need to provide your PIN to the Companion, which can be stored in the app, being protected by a passcode and your biometric information.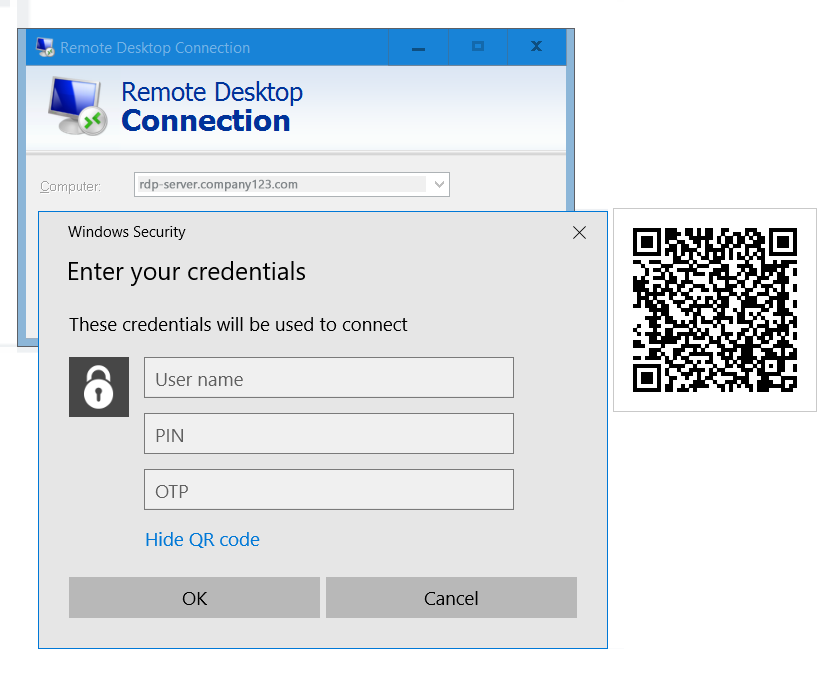 You can move the QR code across the screen by dragging it with a mouse and show/hide it by clicking on the link blow the input fields.
Fast Login is also supported with the regular console login, be it a local computer or a login or lock screen of an RDP server.
There are a couple of scenarios when Fast Login is not available:
UAC prompts, these are detached security prompts that do not allow extra information to be show on screen.
Offline computers.
Computers that are currently connected to a foreign network.
For these scenarios you would have to key in the credentials yourself.