When in comes to Server management, SystoLOCK MMC Console is your tool of the first choice. It gives you a convenient overview and quick access to most administration functions.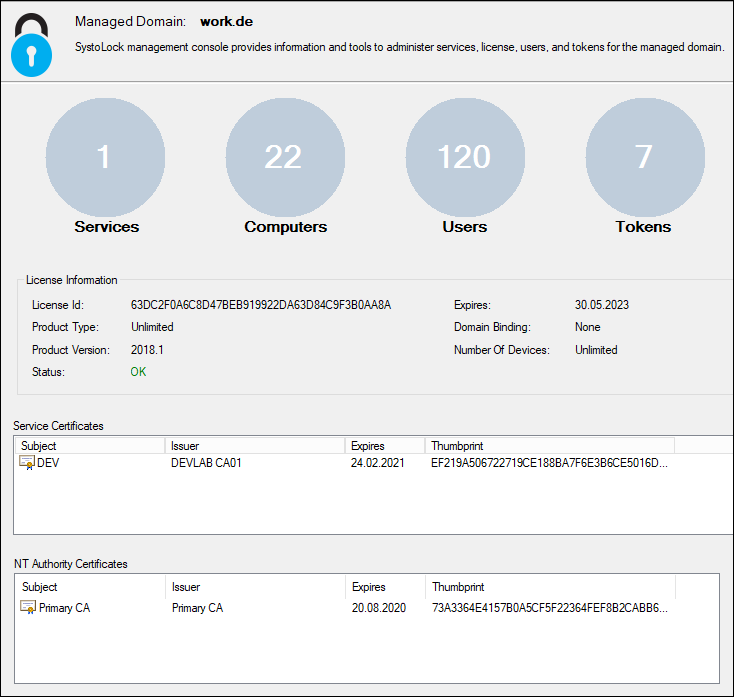 The central node of the Console gives you an overview of:
Number of SystoLOCK Servers (services)
Total number of users
Total number of tokens
SystoLOCK license information
Certificates in the NTAuth store
The top three circles are also health indicators and will turn red in case of problems. A click on "Services", as well as selecting "Services" node in the navigation tree on the left, will bring you to the list of Services and its logs.
The top part of the screen occupies a list of all SystoLOCK Services discovered.

From this view you can start/stop the services and check their properties by selecting appropriate action in the right pane or by invoking a context menu.
The bottom part occupy consolidated event logs that the Console collects from all Services when you start the Console.

You can browse logs, search them by selecting various criteria on the toolbar. A double-click on a log entry will bring up a windows with full event properties.
You can refresh the logs by clicking on an appropriate menu item on the right pane.